Quality, Design, and Core Financials are Struggling…
J. Crew's quality decline and its related slipping financial performance have some worried if the cult favorite can again get its footing and return to its glory days. In a year where J.Crew may be getting a new owner, its profits have declined sharply, disgruntled customers continue to encounter quality issues, and the company churns out some designs that can only be considered inapplicable to its core customer base. Management now appears keenly aware that they are headed in the wrong direction, but the ideas they've put forward might not be enough.
J. Crew's glory days are relative here; if you're drinking Ms. Lyons' crew-laid then yours start about 2008. It was around that time that the gorgeous Jenna introduced us all to the idea that we could be chic and geek, bringing in personal little touches to our wardrobe that were quirky but polished. Her mantra was quality, design above all, and she was praised company-wide for her management style.
… Which We Probably Should Have Expected
Looking back now, however, some of her quotable quotes from her early days in that role are illuminating viewed against the backdrop of the company's current troubles. Ms. Lyons famously opined that her appointment as Creative Head signaled that no financial decision at J. Crew weighed heaver than a creative decision. In hindsight, this might suggest that along the way, the company prioritized style over substance. Other tidbits like "It's hard when the finance team is used to putting a light fixture in the store that costs $2,000 and I'm like, 'Well, I want an $8,000 fixture," seem to foretell a day when 40% off cashmere sweaters won't cover that type of excess.
We're all also aware that our beloved cashmere sweaters have become a little less fabulous, lasting perhaps a season or two before fraying, pilling, or otherwise ending in a sorry state. The decline of quality pieces has been well documented over the past few years, with the CeCe shoe debacle in early 2015 reminding us that a professional, quality, commuter flat is a near unattainable wardrobe dream.
… And The New Strategy Doesn't Solve Core Issues.
The Crew leadership has laid out a plan to focus on opening more outlet stores, expanding internationally, and improving fashion. This might not be enough.
— Adding Outlets Doesn't Address the Quality Issue: CEO Mickey Drexler contends that the outlet and retail store shoppers are not the same customer, but I defy you to find a 20 or 30 something gal who doesn't have pieces of both in her closet. Part of this is because us savvy Crew shoppers know that if you loved something at J.Crew proper, you're likely to find its near design twin the following season at the outlet. Adding more stores to the off price version of the brand doesn't signal that a quality improvement is at the forefront of the new strategy and the core customer base.
— Expanding Internationally Has Produced Mixed Results: The company's earlier foray into Canada hit several bumps in the road, mostly related to prices being extraordinarily out of line with what US consumers were paying for the same product. This problem is the cousin to quality issues – if fast fashion Americans are displeased with the current production standards, J. Crew will be hard pressed to find a more forgiving audience in the Europeans. With homegrown competitors like Reiss and Zara to contend with, and a base that's less inclined to jump at the daily 25% off sale, J. Crew might struggle making lasting in roads in this market.
— Styling and Product Choices Aren't Hitting the Mark: Drexler has confessed that the brand strayed in recent years and that many styles haven't been reflective of the "J. Crew woman." To be fair, more than ever this woman has many faces. Drexler and company likely have a difficult task ensuring that the sequins maxi remains as available as a black Tibbi. We're not yet back on track. Little gems like these and this make me think that both the style and the value proposition are still off, and the entire design team's not quite on the same sheet of music with corporate strategy.
So What's the Crew To Do?
All is not lost for J. Crew. You'll still find us in there on a Saturday, gleefully sifting through the new arrivals, replacing loved basics even if this season's version isn't as great as the piece we're about to toss on the goodwill pile. A few key moves would go a long way:
— Make Basics Exceptional Quality and Stock Them Prolifically: Every sweater, every blouse, every pant that is produced season after season needs to be dragged back to the manufacturing round table and hemmed and hawed over until it is the best quality piece it's been in 5 years. J. Crew lovers from all demographics seem to be on the same page here. We'd rather spend the extra $10 – $20 on the sweater that doesn't fall apart after the first dry clean, that we can pull out of the closet season after season and still love, that we actually want to love. When J. Crew gets this down, it needs to review its inventory system; we want to be able to get a size of our black Blythe blouse 365 days a year and not be on a 90 day waiting list for its arrival.
— Temper the Sale Chatter: We can't help ourselves, that flash sale email comes through and we're all compelled to stay up in bed scrolling through our phone ensuring we didn't miss something we loved at $100 and are absolutely sure we're buying if it's $40. That said, this every-day-is-a-sale culture is exhausting, and its again, not a signal that quality is at the forefront of your strategy. Better yet, give me a more chic every day value model where maybe I'm spending $160 on a blazer every time I walk in the store, instead of $140 – but it's perfect quality, and I never feel like I have to scout for sales.
— Give Jenna A Co-Pilot: Part of the company's challenge has been connecting with its original core, conservative, preppy dressers for whom perhaps Jenna is a bit of a stretch. Given the brand is now near synonymous with her own personal style, there is probably some value in finding an equally large personality you could add to the ranks of senior management–maybe in a little older demographic, maybe with a little more Emanuelle Alt quality–sophisticated, simple, elegant. Women need to see themselves in J. Crew again, and not every woman is or wants to be a Jenna.
Five years ago, J. Crew was hailed as an agile purveyor of fashionable goods, able to make sense of the young-adult market who were stylistically aging out of the Gap but perhaps were shy of the corner office chic someone like Ann Taylor makes their signature. Its model off duty, perfectly rumpled-polished is not replicated by any other retailer, but that shouldn't give the company a reason to toil in mediocrity. Hopefully we have a return to classic, quality, polish on the horizon. Publications calling J.Crew's look for Fall 2015 "elevated prepster" harkens back to said glory days, where under the glow of $2,000 chandeliers we could thumb through the gorgeous cashmere we believed were investment pieces.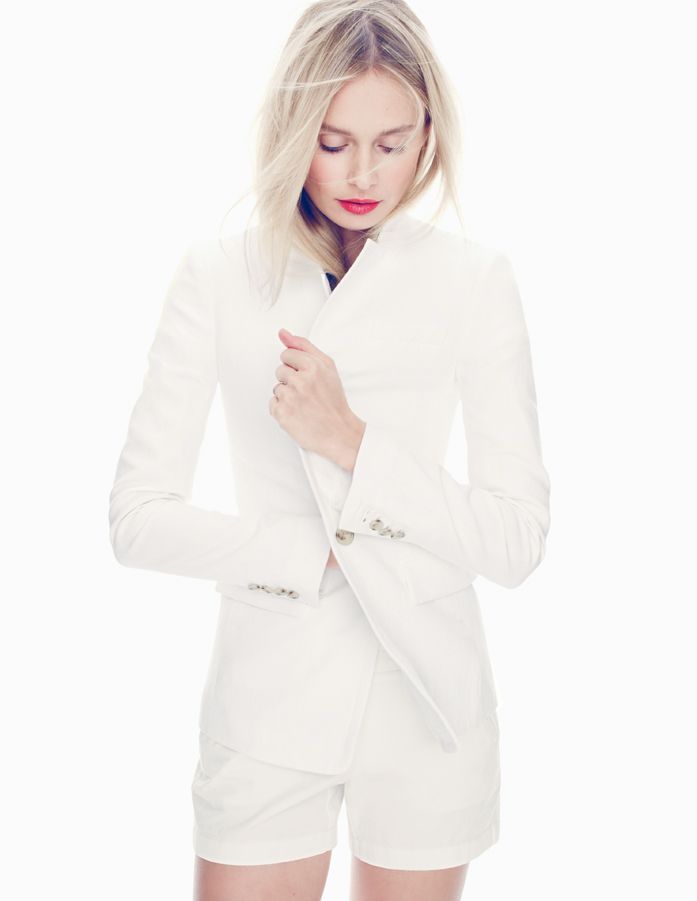 *image via the Crew